I really enjoyed so many movies this year. So many in fact that i made a top ten and then kept going with ones i enjoyed, but maybe not enough staying power in them to be a top ten contender. My top ten consists of movies i'd see multiple times. That usually is my gauge for how I decide. Although sometimes a film makes the top ten more because of its subject matter and social importance such as 12 years a slave. Not sure i wanna watch that again though.
1. HUNGER GAMES
Nailed it! I enjoyed the first movie adaptation but this sequel killed it. pun intended. I was completely engrossed in Catniss's journey from beginning to sort of end. Jennifer Lawrence did a great acting job in this and i felt the danger, the sadness and the conflict. Saw this a couple times in the theater and can't wait to watch it again and again. Now lets hope the next two movies will make that last book better.
2. THE GREAT GATSBY
I have not read the book or seen other movie adaptations of this story so I had nothing to compare it to. I loved it! I hope you saw it in 3D because it looked amazing! I am a huge Leo, and Carrie Mulligan fan and they were so fun to watch. The way of speaking, the costumes, the music and parties were all so mezmerizing. But beyond all that, i feel like this story has some depth as well. Nice job Baz Luhrmann!

3. GRAVITY
Again, i hope you saw this one in 3D as well. Stunning to saw the least! I couldn't believe what my eyes were seeing. I completely felt like i was watching real zero gravity scenes. This felt groundbreaking to me. Like when Jurrassic Park blew us all away with its special effects. And way to go Sandra for carrying this film nearly all by yourself. I sigh of relief when it was over. Not sure how much more stress I could take.
4. WAY WAY BACK
I love a movie year with a small independent film stand out and this year had a few. From beginning to end, this film was so good. I mean just look at the poster, it says it all. You'll laugh a lot and cry a little and wanna punch Steve Carell in the face. Perfect casting all around. Sam Rockwell is always amazing and is a stand out in this. The boy captures your heart right away and you just wanna hug him. Sometimes i wonder whats wrong with me because I really despise movies like the Hangover, or anything with Adam Sandler. But then I realize this is my kind of comedy. It has heart and depth and you will fall in love with it.
5. ABOUT TIME
Okay another well done small independent film. I wasn't quite sure what I was getting into when I went to see this with Gina. Would it be another crappy attempt at a romantic comedy? No. We found ourselves smiling all the way through it. Sure its a gimicky time travel love story but I found it to be a fresh perspective. Rachel McAdams is adorable as always and the awkward lead charcter is quite engaging as it turns out. I can't wait to watch this again. Its cute and clever and takes you along for the ride.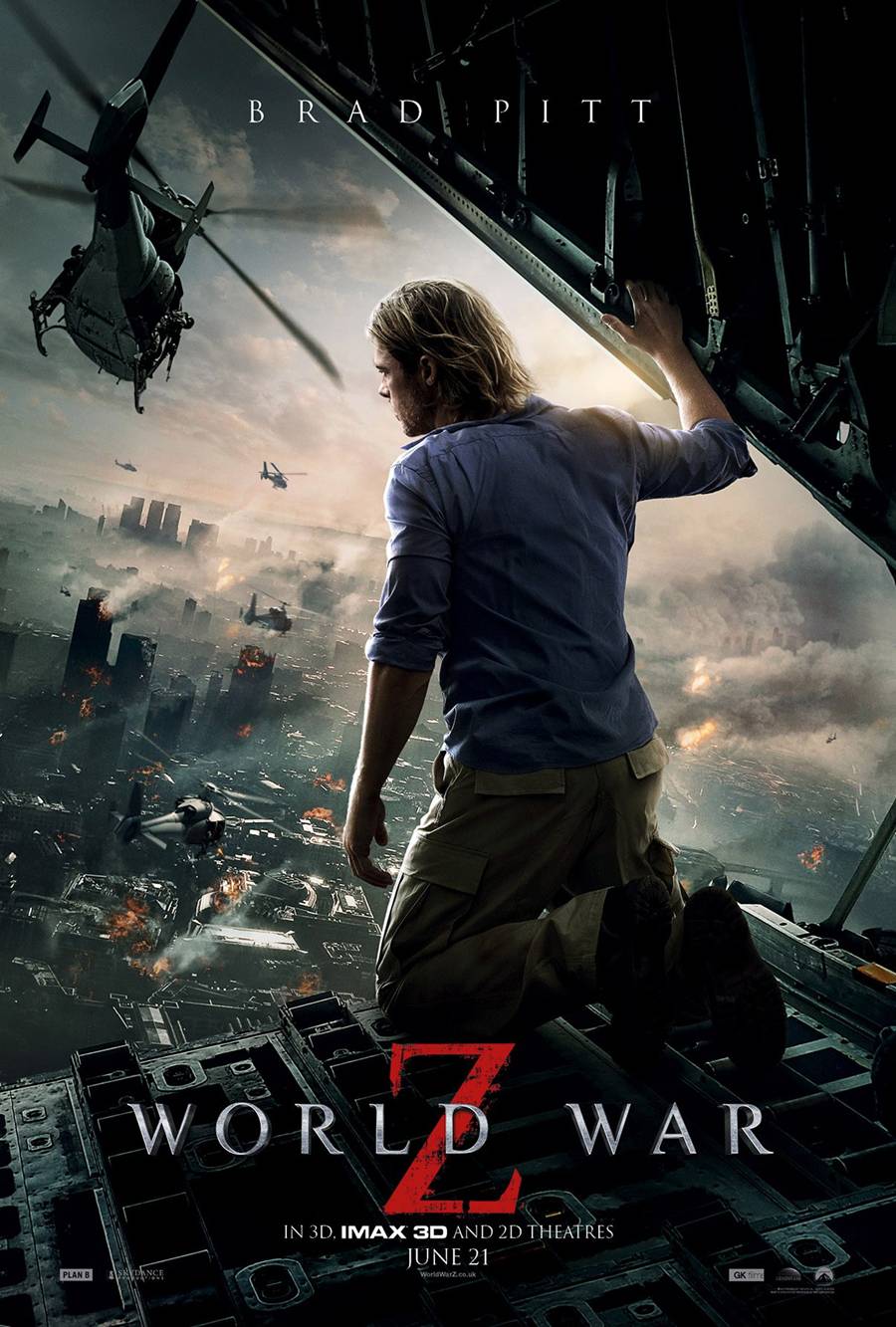 6. WORLD WAR Z
This makes my top ten because how many zombie movies are really any good? I loved 28 days later but not really any others stand out. This was a fresh take on what a zombie appoccalypse might be like? It never gets boring with a ton of scenes of zombies walking slowing toward their victim. This keeps you engaged the entire time. The pacing is excellent. Their are high action thrilling scenes but also slow quiet suspensful scenes. You get small clues as to the cause of the outbreak and it all works together so well.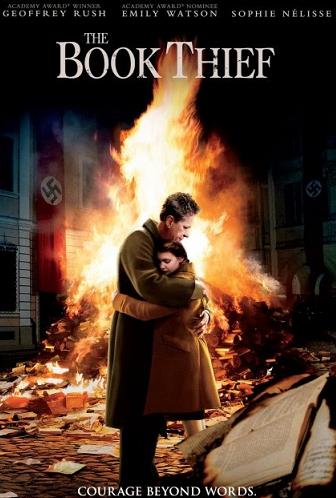 7. THE BOOK THIEF
I had heard so many good things about this book. I even read the first few chapters but then saw a squirrel if you know what I mean. What a well told story. A beautiful story of a little girls life set in the terrible circumstances of Hitler and World War II. The little girl keeps your attention the entire time. She does a brilliant job. The story has great pace and keeps you entertained all the way through. There are some really great meaningful moments that will stick with you.
8. ENOUGH SAID
I loved this movie. It had a very raw and genuine feel to it. You truly felt uncomfortable and awkward as the characters did as they navigated the dating scene as divorced adults. I love Julia Luis-Dreyfus in anything. I find her so fun to watch. And while it was hard to watch James Gandolfinis last role before his death, he was enjoyable to watch. I loved the themes in this movie. How little annoyances can become poison in a relationship if we let them.
9. STOKER
I recently showed this movie to a bunch of friends and they all claimed they hated it. So i guess its not for everyone but i also saw them all glued to the screen too. Anyway, I thought it was well crafted and dark and mysterious. It felt very hitchcockian to me and I loved how details of the plot were carefully revealed. Some very cool cinematography and great soundtrack as well.
10. 12 YEARS A SLAVE / THE BUTLER
I'm lumping these two movies together is that okay? The reason being is that I think they are both important to watch. They both are well made portrayels of parts of our American History. 12 years had some unbelievable acting from much of the cast. Butler spans a large timeline in a way that keeps you interested. I recommend both of these movies for learning and getting a better sense of our past.
Really good small films:
PHILOMENA - Totally loved this movie. Judi Dench is so awesome!
THE EAST - Knew very little going into this but left really enjoying it.
THE PLACE BEYOND THE PINES - Very long but found myself interested the entire time.
MUD - Good movie just a little long and drawn out for me.
HER - Beautifully shot, great soundtrack and performances. Interesting film.
BLUE JASMINE - worth watching for Cate Blanchett and Sally Hawkins performance.
Really good popcorn films:
PACIFIC RIM - probably a guys movie but robots beating up on monsters. yes please.
ELYSIUM - Loved District 9 by the same director and enjoyed this as well. I like parallels to real life.
ENDER'S GAME - Left me wanting to know whats next for Ender.
STAR TREK INTO DARKNESS - These Star Trek reboots are so great!
Really good suspence/thrillers:
PRISONERS - Very little soundtrack and much darker than i thought it would be. But the plot kept involved.
BROKEN CITY - I'm a Russell Crowe and Mark Wahlberg fan. Worth a watch.
SIDE EFFECTS - I liked this movie. Not sure why but I did.
DEAD MAN DOWN - different but i also was interested in the characters and plot.
Really good comedies:
AUSTENLAND - Just fun and cute. Jeffifer Coolidge is always a hoot.
THE HEAT - Sometimes too much but i laughed pretty hard at times. Love that Sandra.
Really good based on true stories:
RUSH - Didn't think i'd care about a race car movie but this story is really good.
SAVING MR BANKS - Loved seeing behind the scenes of making Mary Poppins. Just needed a little more too it.
WOLF OF WALL STREET - Did this stuff really happen? Wow. I'm happy with low income if this is what happens with wealth.
DALLAS BUYERS CLUB - Nailed it Matthew M and Jared Leto. Very interesting story.
FRUITVALE STATION - The last 24 hours of Oscar Grants life. Very well made film. Felt honest and left you with things to think about.
PAIN AND GAIN - I kind of compare this to Wolf of Wall Street. Very crazy story. Again, did this really happen? Wow.
CAPTAIN PHILLIPS - Very well done film just too long at times. The payoff was at the great performance by Tom at the end.
Good but a little disappointed:
AMERICAN HUSTLE - Loved so much about this movie except for the plot. I just didn't care about their hustle at all. Got bored.
SECRET LIFE OF WALTER MITTY - Very beautifully shot but i wanted a stronger emotional punch. Seemed kind of one note.
SUPERMAN - Great attempt but still didn't quite nail it. Too much action and CGI and not enough plot an conflict.